I've been using Google Nest Audio for a week, and here's everything I noticed during this time. The review is to be put into two parts: hardware and software to make things easier for you. I've purchased this device so that I will state my opinion accordingly.
The most important things about the device:
it gets plenty loud for the size
It sounds clean and clear
Powered by Google Assistant
100$ price tag is justified for the sound it produces
Hardware
I don't own Google Home to compare it to, but the size of the Google Nest Audio is like 3 Google Nest Mini's molted into one gadget. To be completely honest, it's smaller than it looks in the promotional material but heavier than you might expect.
It's powered by a proprietary power cable that can be removed. The port for power is not standardized, and it's also the only port on the device. I would love to see USB-C instead, but I guess it is reasonable to use a proprietary port since the cable won't often go unplugged. There's also a physical mute switch on the back of the device, an excellent addition, but I don't know the real use case for it. If you have private conversations happening in your home, you probably don't want to own a gadget like this.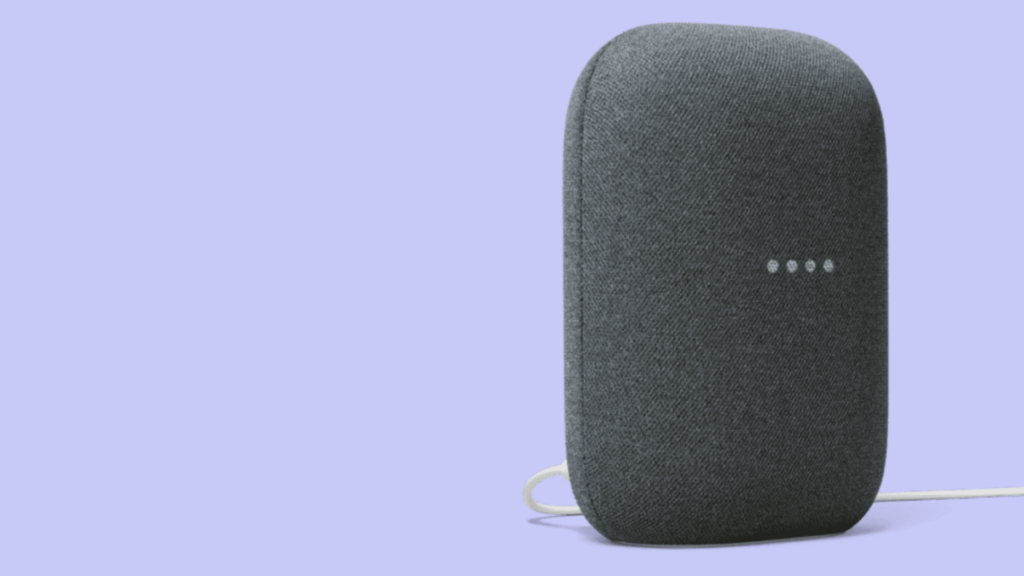 Google Nest Audio has a fantastic look and feel. I have a charcoal black color, and it looks great. The textured look and feel give it a premium look. I love how well it blends into my room, and I think Google offers some fantastic color options that can make a good fit into your room as well. For a hundred dollars, it's probably one of the most premium-feeling products I own.
The enclosure is made from 70% recycled plastic, stated Google. I like that Google can still produce great hardware with sustainability in mind. I don't think that this fact impacted my purchasing decision, but it's always good to know.
There are three touch-sensitive controls at the top of the speaker. I wouldn't know they were there, but the Google Home app mentions it during the installation process. I'm guessing that most people will use these features with voice, but it's nice to have some physical controls over the device. Some reviewers complained that the buttons are too close together; I think they're fine since most of the time, I use my voice to control the device. If you don't want to use voice commands, this might not be a product for you. Just because Siri doesn't understand you doesn't mean Google won't. (I'm joking, chill!!)
Sound
Google Nest Audio has a rich and full sound. I've played everything from podcasts to music, and it all sounds lovely. Google has implemented some features to adapt the sounds to the environment and whatever's playing. I haven't noticed anything that would make me believe that claim, but podcasts and music sound better than expected.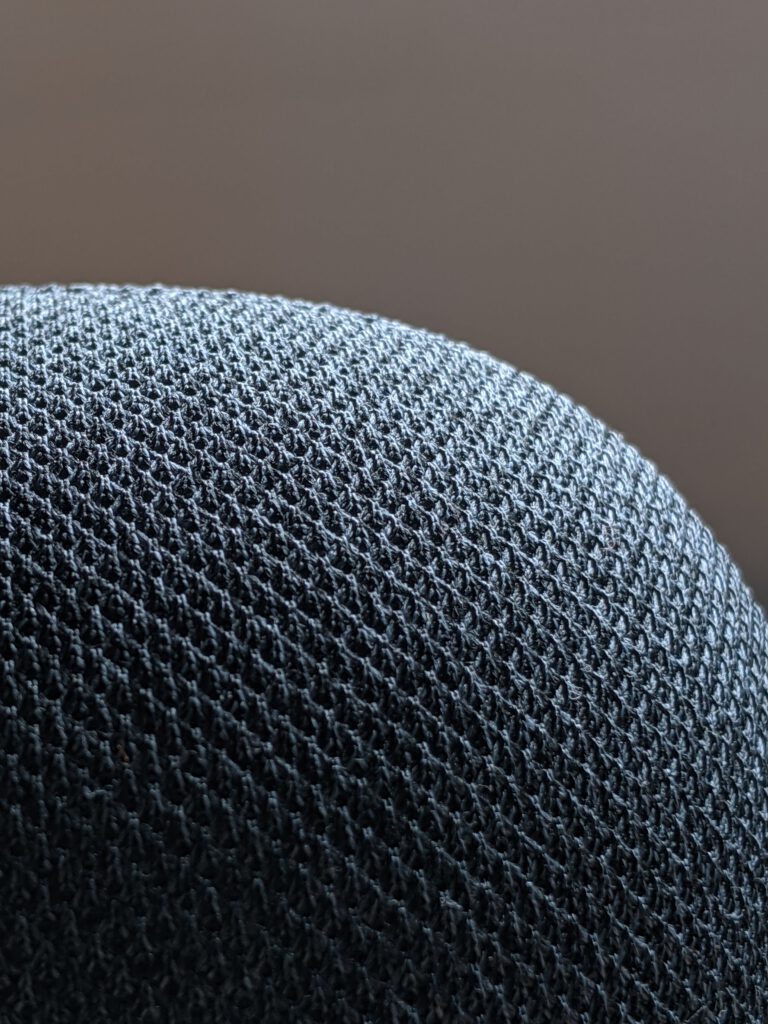 For a speaker of this size, it gets plenty loud. It does have a strange volume progression. At 30%, it's ok for a nighttime situation, but during the day, I would keep it at 30-40% for typical commands and listening to music. If you set it to more than sixty percent, it gets super loud, like the party loud. I can quickly put it to 70% in my room and have music for the whole apartment, and I might have trouble talking normally. I'm going, being honest, I'm a bit too scared to put it to full volume, so I don't know if the sounds get distorted.
Software
You can see that I'm impressed with the hardware, but Google products shine when it comes to software, and Google Nest Audio is no different. I already mentioned the speaker's software features like adaptive sound and optimization for podcasts and music. However, where Google leads is in the assistant area, with it's powerful Google Assistant.
Google Assistant is probably one of the most important reasons when it comes to picking smart speakers. You might have a different preference due to your ecosystem of choice, but we can all agree that Google Assistant is the most powerful of the bunch.
You can do a lot with Google Assistant, but the services you use have to be compatible with it. For example, you can play music using Spotify, but you can't play podcasts using Pocket Casts (as of now, Pocket Casts is in the process of adding their service to a default list of the podcast services). Even though Google Assistant can be extremely powerful, I only use it for a couple of commands, and that's ok. You need to remember that this is just a smart speaker, a good speaker at least, so don't expect it can clean your room (although I think you can ask Roomba to clean the floor using Google Assistant). I use it as my default speaker whenever I'm listening to something, and for that, it's perfect.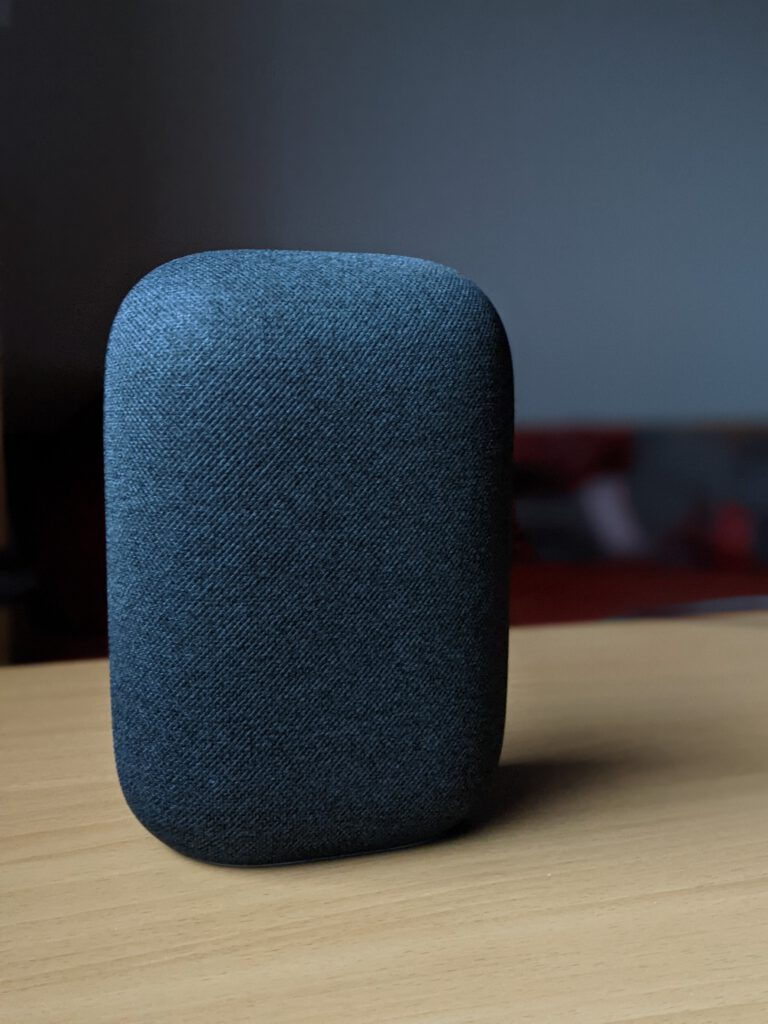 You can also "move" audio from one smart speak to another, I can't test this since I don't own two intelligent speakers, and the feature is only available in the US for now. If you have two Google Nest Audio's, you can have them play in stereo.
Conclusion
I think Google Nest Audio is hard to beat at a hundred dollars. Comparing it to Apple Hub mini, it's a more reasonable purchase without considering the ecosystem. In the end, it comes down to what ecosystem and services you use. I can say that I'm happy with my purchase and recommend it, but just not to everyone. I just like the look and the sound it produced, but I'm also pleased with what Google Assistant can do, so that's why I love this device.