How To: HowToMen – Creator Interview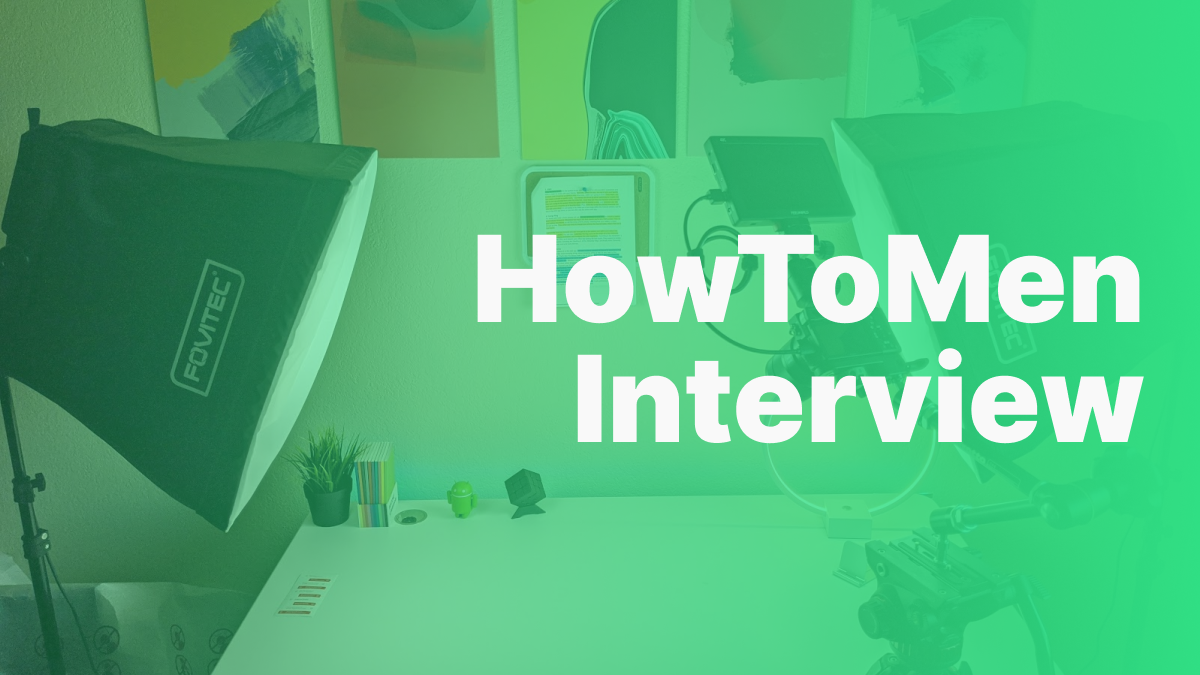 I've interviewed HowToMen, a fellow internet friend, YouTuber and technology enthusiast, in May 2020. I've held onto this interview for so long because it's such a deep dive into the creative process and I wanted to post it at the right time. I believe that today when we just updated our design, is the perfect time to publish it. Enjoy.
We all know your YouTube channel where you review smartphones and other devices. What is the most interesting thing about your creative process?
The concept behind my channel, from the beginning, has always been to assist the average consumer with their smartphone. This includes reviewing the newest flagships, showing useful unknown applications, and exploring fun smartphone-related gadgets. Therefore, the most interesting part of my creative process is exploring all of the latest features found within the newest flagships. For example, on the Galaxy S20 Ultra, I loved experiencing 120Hz for the first time or seeing how crazy extensive 100x zoom was on the rear camera. On the OnePlus 8 Pro, checking out the color filter lens was mesmerizing because it had the potential of letting you see through certain plastics. Just little things like that make my work-process even more enjoyable.
How does your studio look today? Do you have some studio easter eggs from older videos?
These are the pictures of my current studio setup.
On one side, I have my work station where I write and edit all my videos. As well as, do some other stuff like school-work, research, or game. It's basically a standing desk with a 49-inch monitor and my custom built PC. For those interested here are the parts to my PC build: https://pcpartpicker.com/list/h3VYBZ.
While on the other side, I have my recording station. This includes my 600-LED studio lights, a standing desk, a Sony a6300 mirrorless camera mounted with a Sony 16-35mm Vario-Tessar Lens, and a Manfrotto 190 Go Aluminum Tripod Legs attached with a Manfrotto 502 Video Head. I also included a Manfrotto 244 Friction Arm to get different angles quickly without needing to re-adjust the tripod that much.
An easter egg from all of my videos is that I like to include some custom Android collectibles in the background of my videos. Some of them are even extremely rare. I consider it a large collection, even though I am still an amateur when compared to some of the other Android collectors. I know most people won't care about the props in a video, but for the small percentage of viewers who do appreciate the attention to detail, I do it for them.
You're also making videos for Android Police, one of the best publications for Android news. Do you like working for Android Police?
I love working for Android Police! Some of the reasons include that I get to make my own schedule, my boss, Artem Russakovskii, is very down to earth, I get to decide what videos I'd like to post about and when to post them (to an extent), and it's just a fantastic feeling to be working with a small group of individuals who also have the same passion for Android as I do. Plus, whenever I'm not sure about a specific smartphone topic, it's always nice to just hop on the dedicated group chat and ask a team of experts about their opinion on a specific matter. I've been working there for around 4 years now, and I don't plan on leaving.
What's HowToMen's favorite smartphone of all time?
Get the extended article in your inbox by subscribing to Zheano Letter. We're going to send next newsletter in the following days, don't miss it out and subscribe now!
We all know that you have been an Android and iOS user. What is the best feature of each OS?
Great question! In the past, I've used dozens of Android's for plenty of years, while in the iOS realm, I've only used the iPhone XS and iPhone 11 Pro. So even though I'm not an iOS expert, I have determined what features get me to use an iPhone over an Android or vice versa.
Three features that stood out to me when using an iPhone are iMessage, the native screen recorder, and shortcuts. iMessage is the typical answer you get when you ask an iPhone user why they enjoy using their iPhone over an Android. And being in the states, I have to tell you, it is really annoying that the Android community has to resort to SMS because a good majority of the population can't stop using iMessage. Of course, RCS messaging on Android is now a thing, but not every Android user has automatic access to RCS. As of right now, if you can't beat them, join them…or deal with it.
The native screen recording feature is the second reason why I loved using iOS. It still astonishes me that screen recording hasn't been taken seriously on the Android platform, and it's taken Google over ten years to finally implement it into their latest alpha Android release (Android 11 DP1). Yet, somehow, the quality is still not there when compared to the native iOS screen recorder. Hopefully, this is just due to Android 11 not being in its final stable release; otherwise, I will still resort to using a screen recorder app on the Play Store such as Screen Recorder.
Lastly, shortcuts is a beautiful automation tool on iOS that I can't get enough of. It can rest on the widget's screen of the iPhone's launcher, and it allows me to perform practically any custom task that I can think of. There's a whole library of shortcuts to choose from created by the iOS community, and you can easily add anyone's shortcut to your phone. The best part is that I can even set custom Siri voice commands to launch any of these shortcuts.
When it comes to Android, this platform is just generally way more customizable than iOS, and that's what's always brought me back. iOS eventually bores me. As most of you know, with any Android device, you can install a third-party launcher, mess around with widgets or icons, go into the system settings, and change the overall theme, and if you root, the possibilities are endless. Android, at least to me, is just a lot more fun to use.
Here at Zheano Blog, we're huge fans of your work. What kind of videos can we expect from you in the future?
As of right now, I'm focusing on the best app videos, phone reviews, and a few random trendy Android-related videos. But over the summer, I do want to focus a lot more on customization videos. More specifically, homescreen setup reviews. I want to feature the work of some of my fans in future videos. So that will definitely be fun and will take a lot of work.
What's on your smartphone?
As of right now, I'm using the OnePlus 8. I usually use a third-party launcher like Lawnchair 2 or Nova Launcher. But for this setup, I decided to go with the stock launcher. OxygenOS is one of the few stock launchers that I can stand because even though it's not as customizable as a third-party launcher, it still supports icon packs, allows me to customize the home screen layout, and now finally has the Google Discover panel on the homescreen.
As for the contents on my screen, I like to keep it minimal. A KWGT widget up top. The one I'm currently using is from a pack called "Mini-ism for KWGT." The icon pack that I am using is called Jyphs. And the wallpaper comes from a website called "Walls by JFL."
Conclusion
I want to thank HowToMen for taking the time and writing extensive answers to my questions. I've been a massive fan of his work for years, and I'm incredibly grateful for the opportunity to do this interview. I had such a great time writing this interview, and I can't wait what does the future hold.